The Rewriting the Code: Women and Technology initiative held a forum on March 1-2 at Washington and Lee University to bring together speakers from a variety of disciplines to talk about how their work intersects with technology. The six women spoke on everything from how technology can be used to tell stories to addressing the wage gap to the role technology has played in promoting social justice. Throughout the two days, many W&L students, faculty, and staff dropped in to hear from the speakers.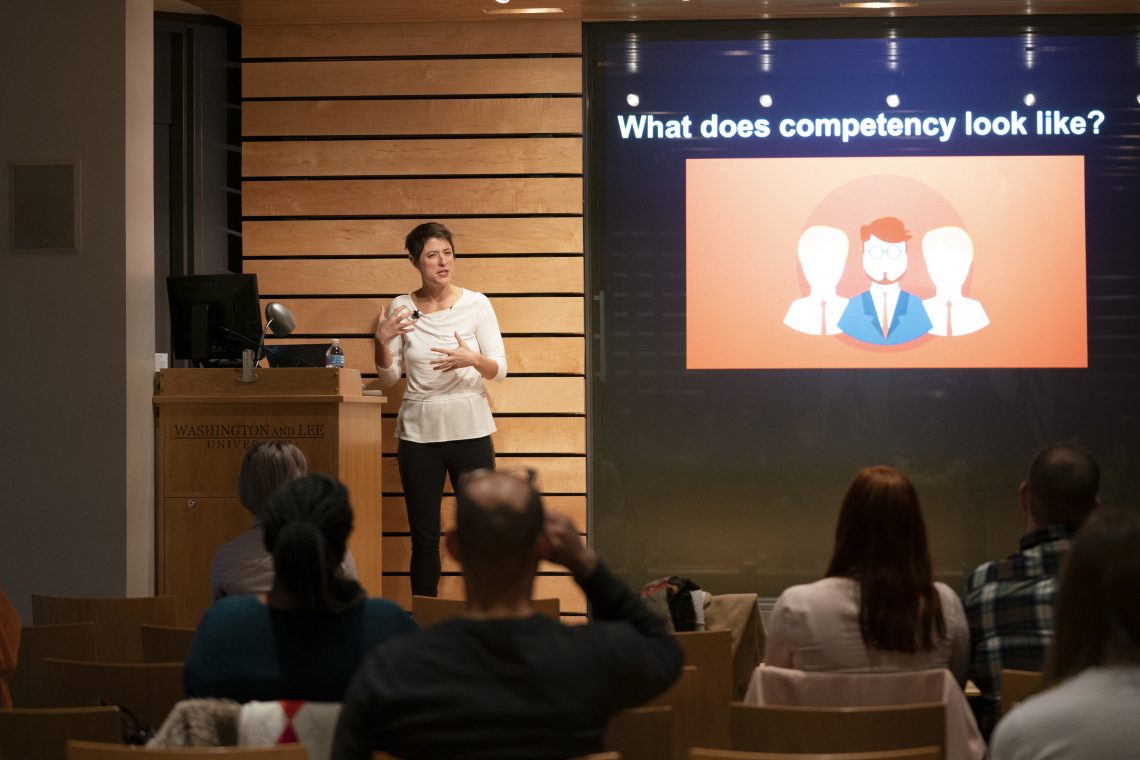 The forum began with a keynote speech by Chelsea Barabas in the evening of March 1. Chelsea's keynote, which was titled "Dodging Silver Bullets: Understanding the Role of Technology in Social Change," covered some of the research she has done investigating algorithms purportedly created to help increase equality in the tech industry. She also discussed the pervasiveness of the idea that tech is meritocratic and therefore any disparity between the number of tech-focused workers of different genders or ethnicities is simply due to ability rather than bias. The keynote was well-attended by both W&L students and faculty and staff who stopped by Northen Auditorium to hear her speak. If you missed Chelsea's keynote, you can watch the livestream or read more about her visit here.
Day two began with a welcome breakfast, allowing speakers, students, faculty, and staff to mingle together while enjoying a healthy breakfast. The day truly began a short while later, with the first panel titled "Technology and Social Justice." The speakers on this panel included Chelsea Barabas, Sydney Boles, and Stephanie Stelter, and it was moderated by W&L accounting professor Megan Hess. The three speakers discussed topics including how their work fosters social change, the role of technology in creating that change, tech skills they feel would be useful for the audience to know, and ways that people can promote social justice even if their current job does not directly lead to social change.
The next panel, "Making History," included Logan Jaffe, Stephanie Stillo, and Diana Williams. This one was moderated by W&L history professor Molly Michelmore and included conversations on how each speakers' work engages with history, the current state of history in our culture today, and the ways technology can be used to connect people to history.
The two panels were followed by a networking lunch, during which students were able to sit and eat lunch with a speaker. This allowed smaller groups of students to have more intimate discussions with the speaker they were sitting with. Some W&L faculty and staff also joined in for the lunch, which helped to create discussions that covered a diverse range of topics.
After the lunch, attendees got to hear from all six speakers as they discussed "The Best Career Advice I've Ever Gotten." The panel was moderated by Kellie Harra, Post-Baccalaureate Fellow in Digital Humanities at W&L. The speakers covered everything from the best career advice they had received (or wished they had received) to addressing the wage gap in the workplace to activities they do in their free time that help with relaxation to overcoming the intimidation of learning and using technology. The audience was especially involved during this panel, asking questions throughout.
The day finished off with a panel on "Technology and Storytelling" which involved Sydney Boles, Logan Jaffe, Stephanie Stelter, Stephanie Stillo, and Diana Williams, with W&L professor Toni Locy, from journalism and mass communications, as the moderator. During this panel, the speakers talked about who they consider their audience to be and how they make that decision, the process that leads to stories being told, and the hardest stories they've had to tell. Throughout these conversations, the use of technology was discussed in relation to the types of stories being told.
About the Speakers
Chelsea Barabas: Chelsea is a research scientist at MIT, where she examines the spread of algorithmic decision-making tools in the US criminal justice system. She also has explored a wide range of issues related to the use of emerging technologies to serve the public good. Common across all her work is a general interest in building and critically examining technologies that aim to serve the public interest.
Sydney Boles: Sydney is a digital and radio journalist for WMMT and the Ohio Valley ReSource, based in eastern Kentucky. She also works for Appalshop, which works to revitalize Appalachia and tell stories that challenge the stereotypes about the region. Sydney's work covers economic issues in the Appalachian coalfields. Her stories have also appeared in the Detroit Free Press, NPR's All Things Considered, and Red State Blues, from Belt Publishing.
Logan Jaffe: Logan is the engagement reporter for ProPublica Illinois. She previously worked as an "embedded mediamaker" on the New York Times' Race/Related newsletter in collaboration with the documentary showcase POV, in which she reported and produced a crowdsourced project confronting the pervasiveness of racism through everyday objects. In 2014, she was a recipient of Chicago Filmmakers' Digital Media Production Fund for "Battle Flag," an interactive documentary about the role of the Confederate battle flag in America today.
Stephanie Stelter: Stephanie graduated from W&L in 2009 and is now the Associate Director of Technology and Operations for the Coalition for College, where she uses her database administration and communication skills to unite 150 member colleges and universities in the mission of making college a reality for all students. Her vast experience and skills helped the Coalition grow from a startup non-profit to an established organization with a national presence.
Stephanie Stillo: Stephanie is the Curator of the Lessing J. Rosenwald Graphic Arts Collection in the Rare Book and Special Collections Division at the Library of Congress. After receiving her PhD in the Early Modern Atlantic World from the University of Kansas, Stephanie served as the Visiting Mellon Fellow of History and Digital Humanities at W&L. She also served as Mellon Fellow for the Council on Library and Information Resources in history and technical studies at the Library of Congress.
Diana Williams: Diana is the digital editor and strategist for BackStory, the American history podcast. She creates, curates, and edits content for all of BackStory's digital platforms and creates and implements strategies for broadening BackStory's reach and engagement. This includes managing and monitoring meta descriptions, like keywords and image tags, to increase visibility and improve search engine results. Diana also uses advanced digital skills, including coding and data analysis, to review and analyze results, inform decisions, and refine marketing and communications techniques.
The forum came to a close on Sunday morning, March 3, with some of the speakers, plus a few students, faculty, and staff members attending a breakfast at Niko's Grille in Lexington. This allowed for one final opportunity to review the discussions from the previous two days and learn more from the speakers about their life experiences.
Throughout the three days of the forum, students were actively involved in the conversations, frequently asking questions of the speakers. The synergy of the speakers also worked to create a fun yet serious atmosphere, where learning and reflection could take place. We are especially grateful for the willingness of the speakers to join us and for helping to make the forum an exceptional event.
Rewriting the Code is made possible by support from: Andrew W. Mellon Foundation, Class of 1963 Lecture Fund, University Lectures Fund, Digital Humanities Cohort, Women's, Gender, and Sexuality Studies, Dean of the College, Dean of the Williams School, Department of History, Department of Computer Science, Department of Journalism and Mass Communications, and University Library.
– Kellie Harra '18, Digital Humanities Post-Baccalaureate Fellow